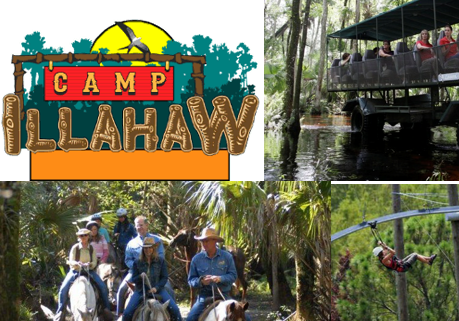 Great Sun Nation will have exclusive run of Camp Illahaw at Forever Florida. There is a "Low Ropes" course for all ages.   We'll have archery, critter racing and some other fun activities at the camp.   Saturday will feature a 2 hour Nature Ride.   Forever Florida will pick us up from camp and take us on cool open air Jeep busses to check out "untouched Florida".   Campers 10 and up will have access to Zip Lines and Horseback Riding (a la carte). 
Eco-adventure park just a short walk from camp with the only zipline rollercoaster in the U.S., a quarter-mile-long racing zip line, a 10-tower zipline tour, and a 7-story leap that will help you find courage you didn't know you had?
Roam 4,700 acres of Florida wilderness with nine different native ecosystems and endless opportunities to observe wildlife and learn about the natural world.